While we always have and always will stay true to our WordPress-roots, over the past few months, we received multiple inquiries for an on-premise website builder from prospective B2B partners. This is a product geared towards SaaS businesses that need a website builder solution to integrate locally in their SaaS product offering.
There are a couple of key advantages that come with Brizy Local that our partners appreciate:
Everything locally on your server infrastructure
First, running Brizy's editor locally means our resellers, agencies, and partners have the builder installed locally on their server infrastructure no matter where that is: AWS, Azure, Google Cloud, etc.
This comes with full control over the integration as well, so everything from where the assets and HTML are stored to CDN and speed optimizations you already have in place you can extend for the builder. Sky's the limit.
Peace of mind
Another major pain point Brizy Local solves is GDPR, ISOs, and other security compliance that you already have in place will stay and will not be affected whatsoever. Brizy no longer acts as a data sub-processor, but merely as a tool for creating websites locally. And that, of course, leads to a major benefit of this on-premise solution.
Seamless user experience
Being created as a white label local embeddable website builder you can integrate it seamlessly into your SaaS product and offer a coherent experience to your users. You can even change the UI colors for Brizy Local to fit perfectly into your product.
You can also turn off certain parts of the builder to tailor a custom experience for your users that fit your branding and product requirements.
Cut costs & reduce churn
Starting to build your own website builder from scratch doesn't make too much business sense if you consider the costs and time to market, especially when you have a cost-effective 3rd party solution available that is ready to be implemented today.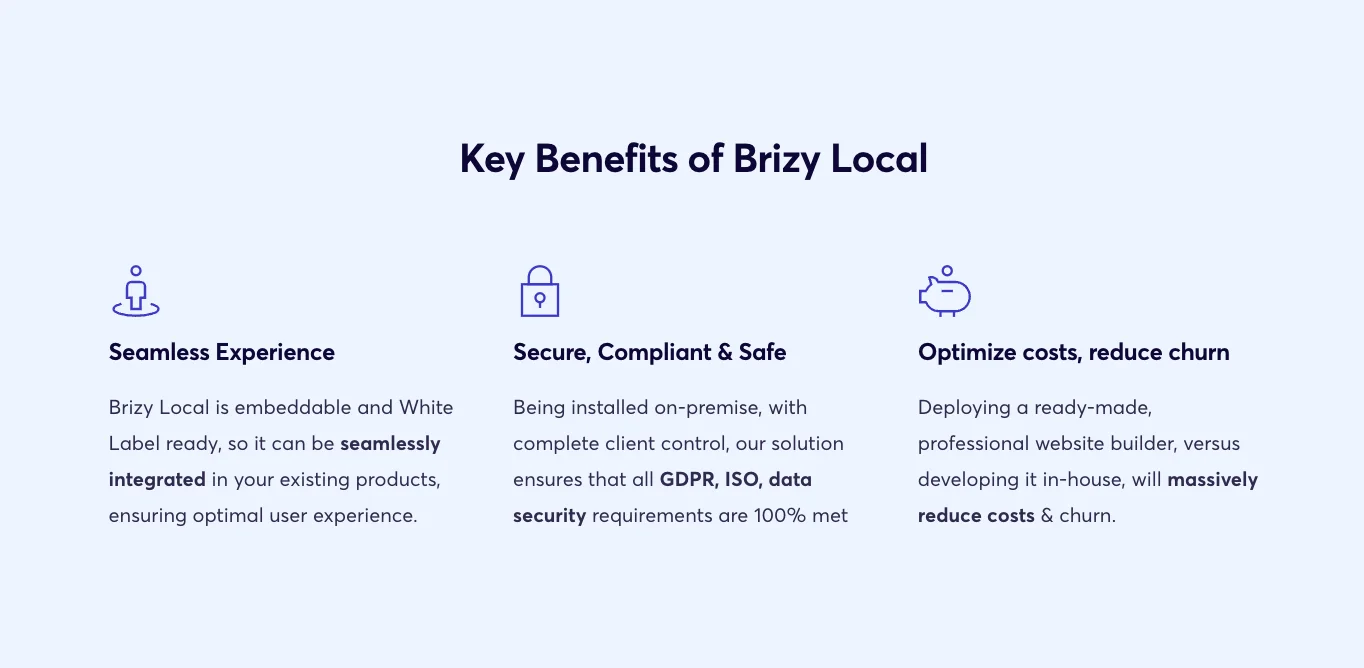 Custom development & support
We have a dedicated team ready to help with custom integrations if your product requires it, like new elements that connect with your product's APIs and so on