Opening the advanced custom field builder is very easy and intuitive, all you have to do is open the Brizy Cloud CSM in the sidebar and go to Create Custom Assets once inside your project.
In Brizy Cloud, the Pages, Categories, Blogs, Popups, etc you see in the sidebar are called Assets so when you are creating a new entry there (using the ACF builder), you are creating a New Asset. These in the WordPress world are called custom post types.
Going forward the terms Assets / Collections / Custom Post Types are interchangeable.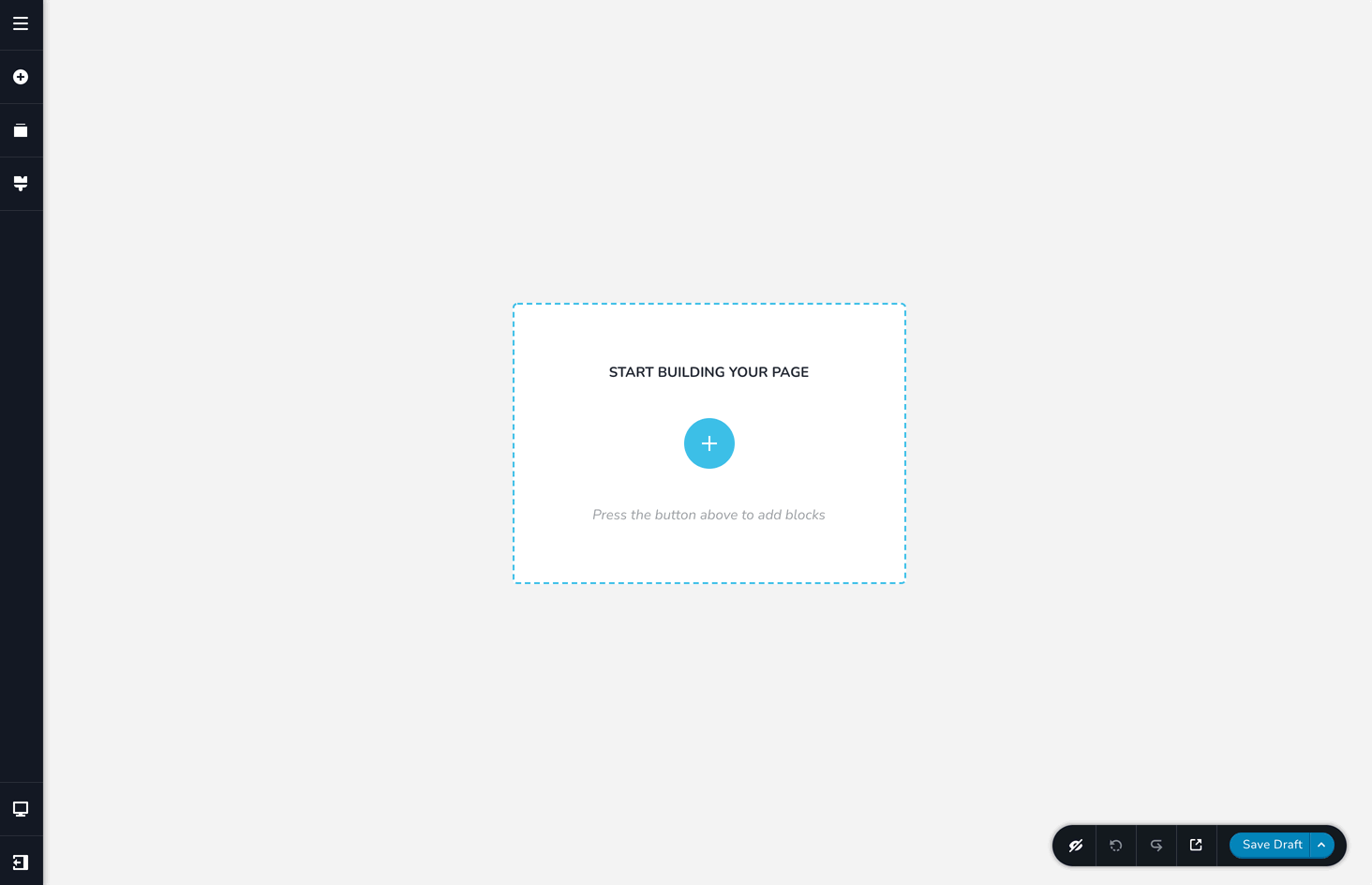 This is where you'll build your new Assets (or Custom Post Type). In my example here I've created a new custom asset called Games.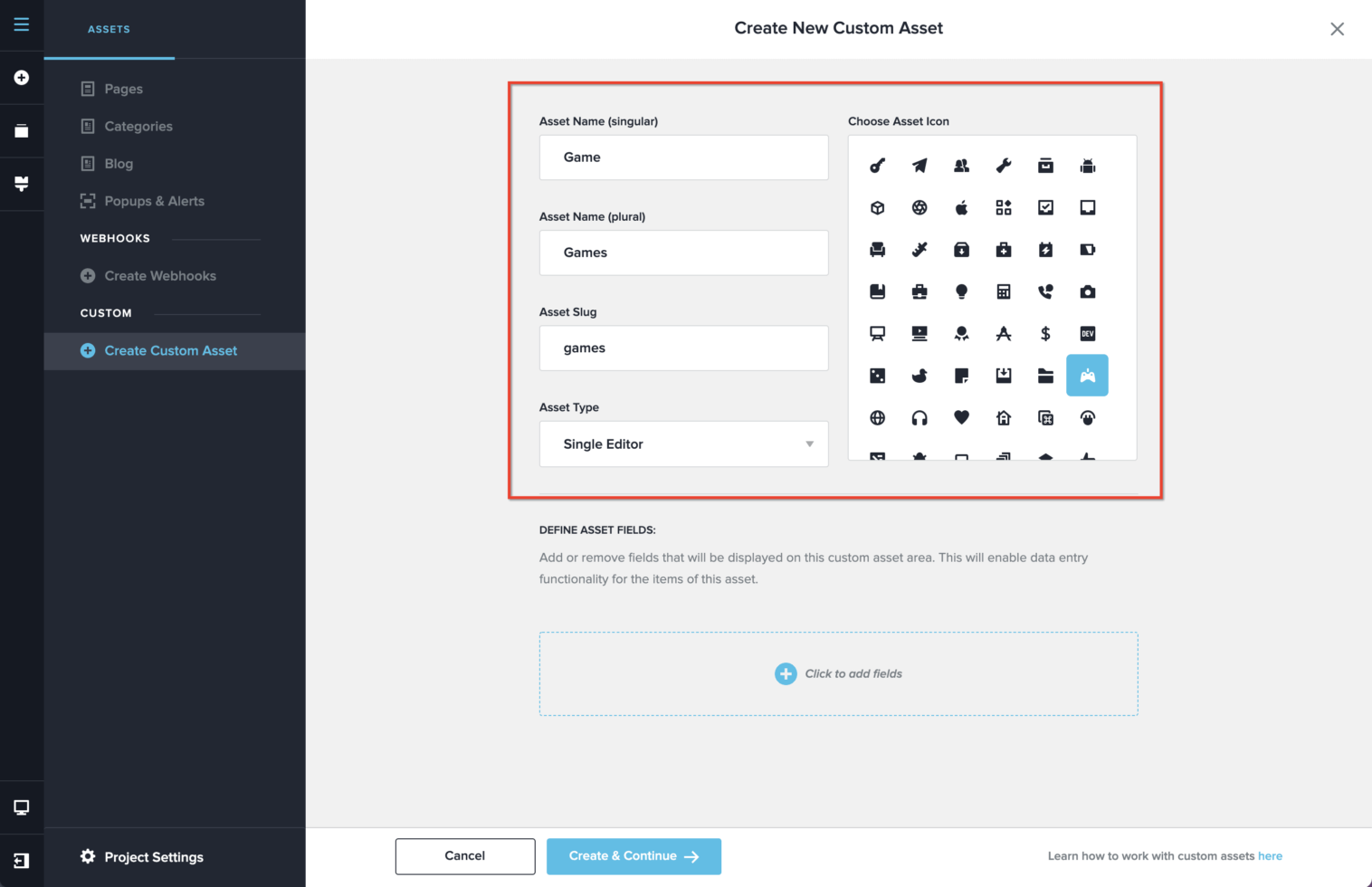 In the first section you'll fill in basic asset info:
Asset Name (singular) – this is your asset name in the singular form. If you want to create a "Games" asset, for example, you'll put "Game" here. We use this name in different places in the Brizy Cloud CMS.
Asset Name (plural) – this is your asset name in plural form. This is displayed in the sidebar and across the Brizy Cloud CMS in different locations.
Asset Slug – this is the link you'll see in the browser for your assets, so for our Games example, if you put "Games" in the slug, your URLs will have this structure on the front end yourdomain/game-name
Asset Type – this option lets you decide if your asset is a stand-alone (single asset) or a category (archive asset). In our "Games" example, this will be a Single type asset. If we were building an asset used to categorise other assets, for example, "Genres" for our games then we would have to choose Archive for the asset type.
Asset Icon – choose an icon for your asset. This will be displayed in the sidebar once the new asset is created.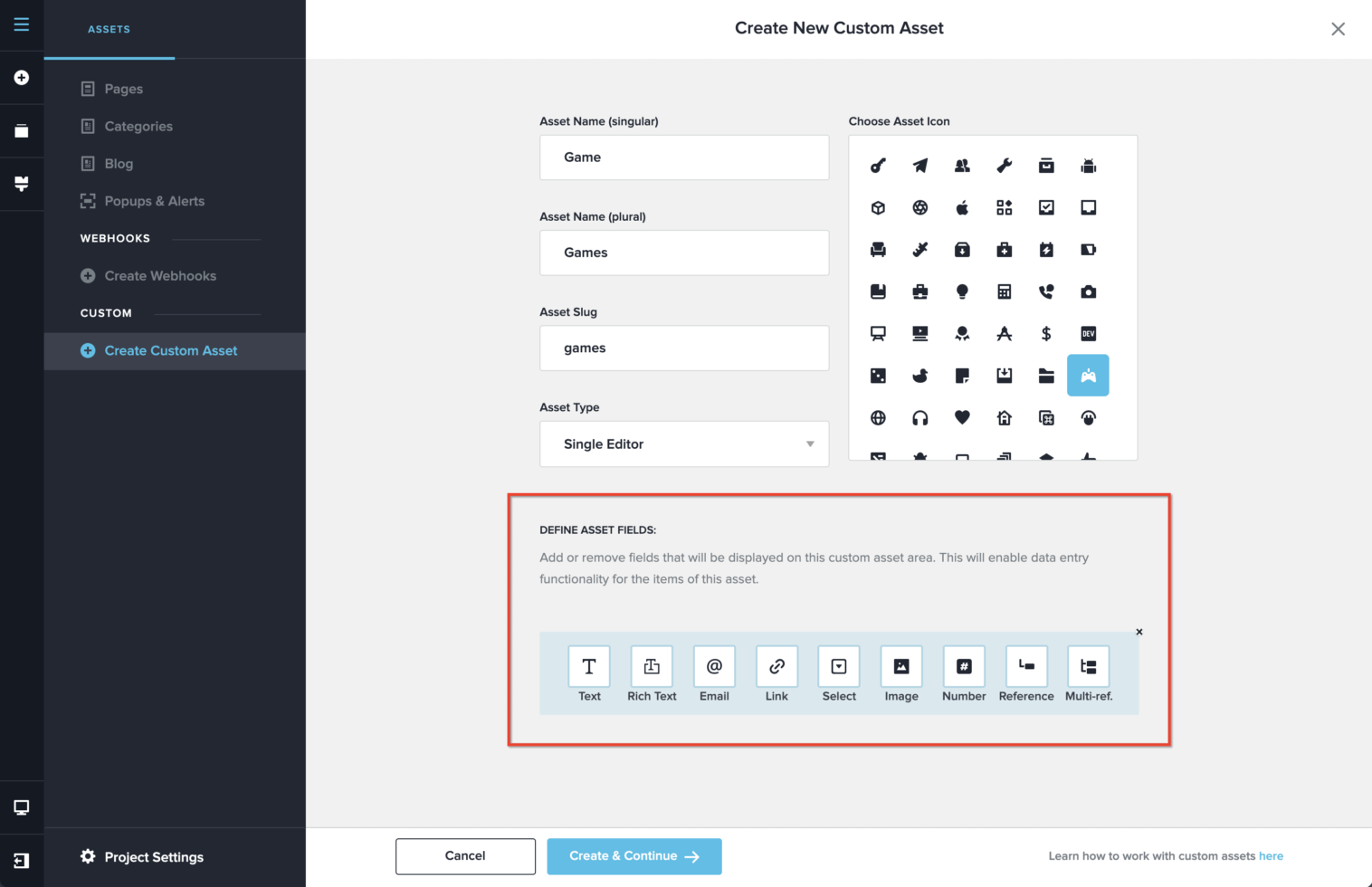 Next, you'll define the fields you want in your asset by adding fields from the bottom section. You can choose from:
Text – a regular input field, that is primarily used for text but accepts numbers and special characters as well
Rich Text – a paragraph best used for your asset excerpt or description
Email – an email field that accepts only email structured inputs like something@custom.com
Link – a URL field that accepts only URL links
Select – a dropdown select field
Image – an image upload field best used for your asset featured image. Accepts only image extensions.
Number – a number field
Reference – used to link single assets with category assets with a one-on-one relation. For example, link a single asset "Games" with a category asset "Developer". The one on one relation means one "Game" has only one "Developer".
Multi Reference – used to link single assets with category assets with a one-to-many relation. For example, link a single asset "Games" with a category asset "Genres". The one-to-many relation means one "Game" can have multiple "Genres".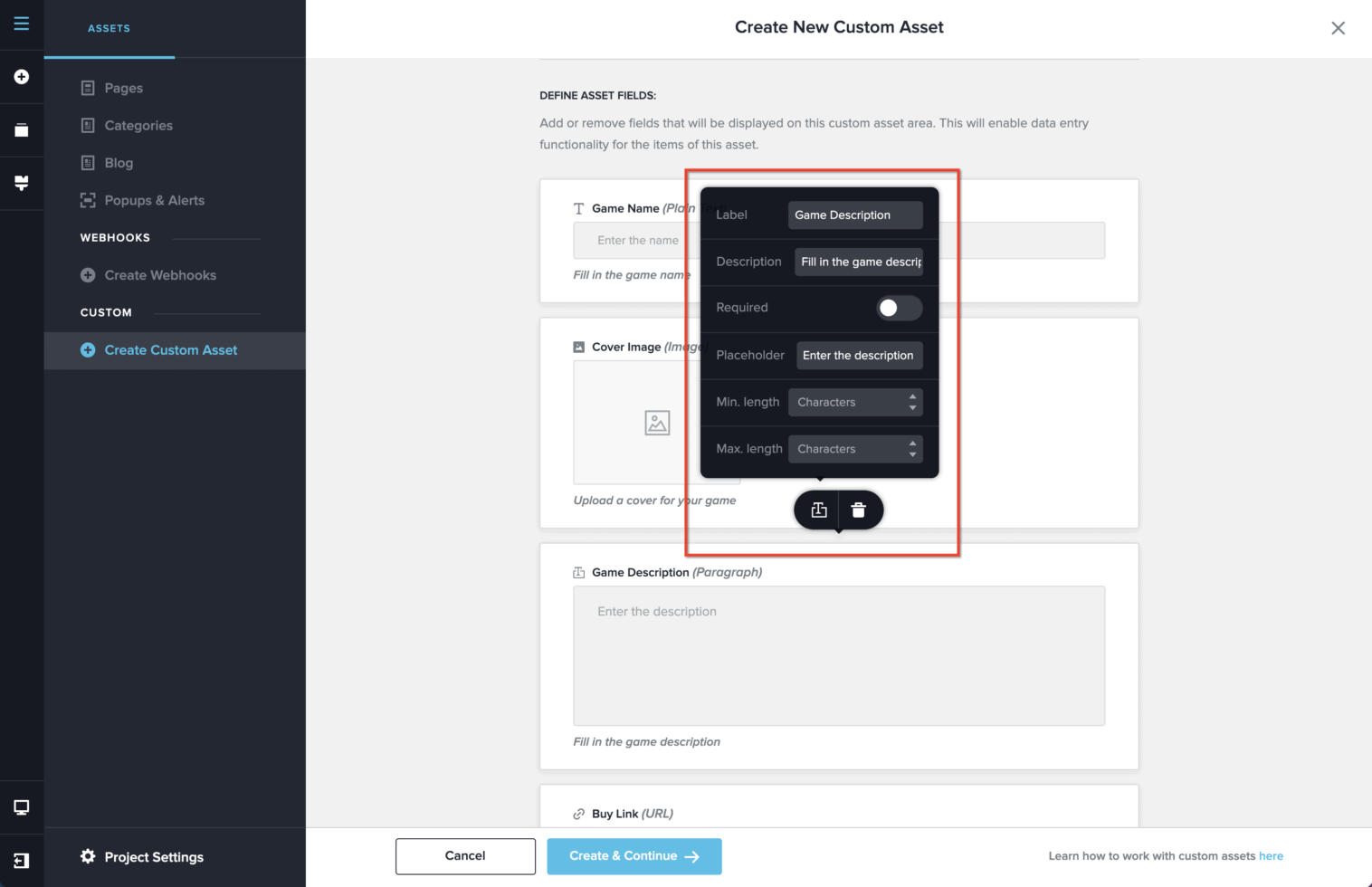 Clicking any field will bring in the options for that field that lets you set the label, description, placeholder. You can also choose if the field is required or change limits based on each field.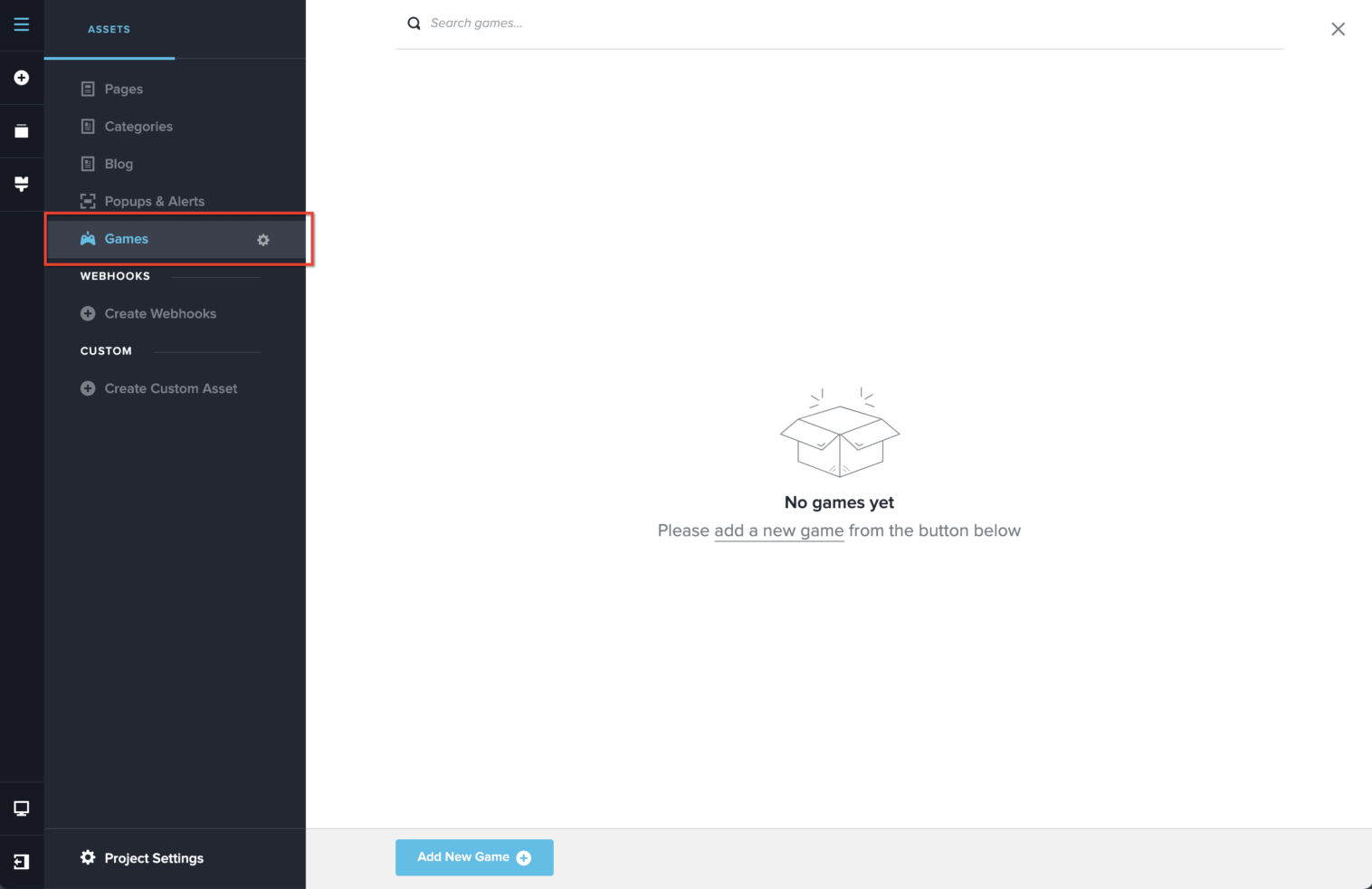 Once you clicked the Create & Continue button, the asset will be created and it will appear in the sidebar. The custom post list will be empty since this is a new asset and it doesn't have any entries yet.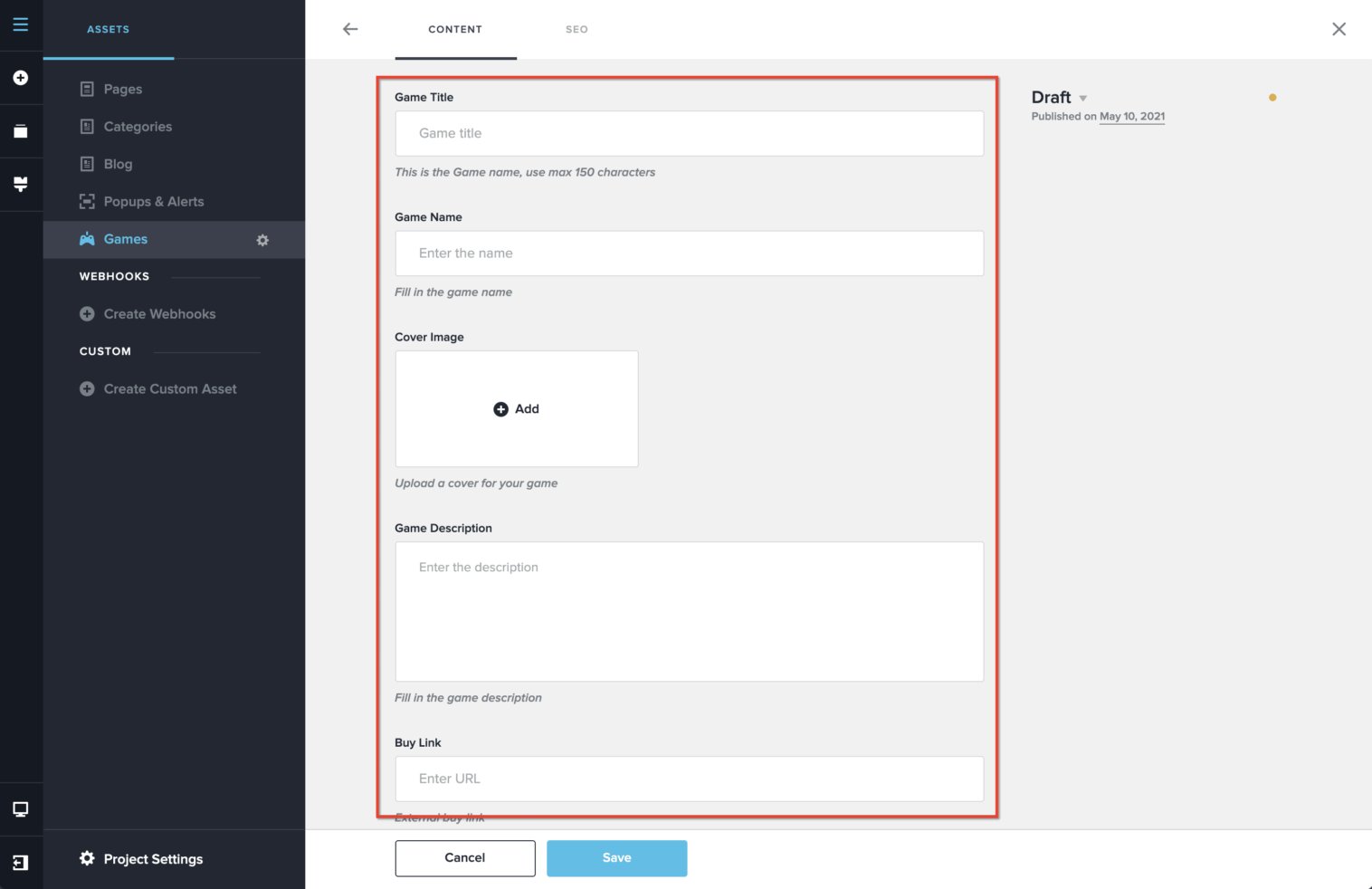 You add a new post (a new Game in my case) by clicking the Add New button. You'll be able to fill in your fields and add a new custom post.
IMPORTANT: Two fields are added on every asset by default by the Brizy Cloud CMS and are set in stone, can't be modified. Those are Asset Title (in my case Game Title) and Permalink.